Case Study: United Methodist Men Conference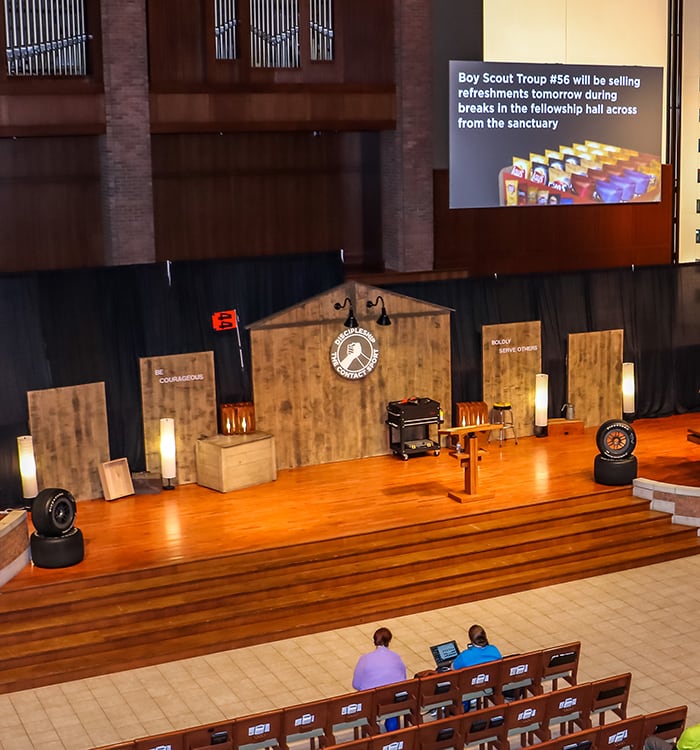 Client Name
United Methodist Men
Project Type
Event Production
T-shirt Design
8" X 10" Program Guide
DVD Production
Project Goal
To produce the visuals for the 12th National Gathering of United Methodist Men
Solution
We were given a limited budget for staging, AV and design. Working within that budget we contracted a video production truck and used the sound system, lighting and engineers from the venue. We contracted a tech director to run lyrics and work with the sound grew and Brian Peat acted as stage manager to make sure the entire event came off smoothly.
We designed and built a wooden stage background complete with barn lights that could be broken down and trucked to the venue and then reassembled. The client then worked with a few local people to get access to some racing and sports elements to dress the stage with.
We also created a modified version of the conference logo that was circular in a version with and without the fine detail of the original. We then used this on t-shirts we designed and also a large wooden disc that was anchored to the background (which now hangs in the client office!). Lastly we designed the program book for the conference, created matching DVD artwork, and edited and authored all the event DVDs.
The client was very happy with all of our work and the men at the conference loved the background so much that they took turns getting photos taken in front of it. The venue loved it so much that we let them keep it for future events.