Case Study: Aldersgate Renewal Ministries Website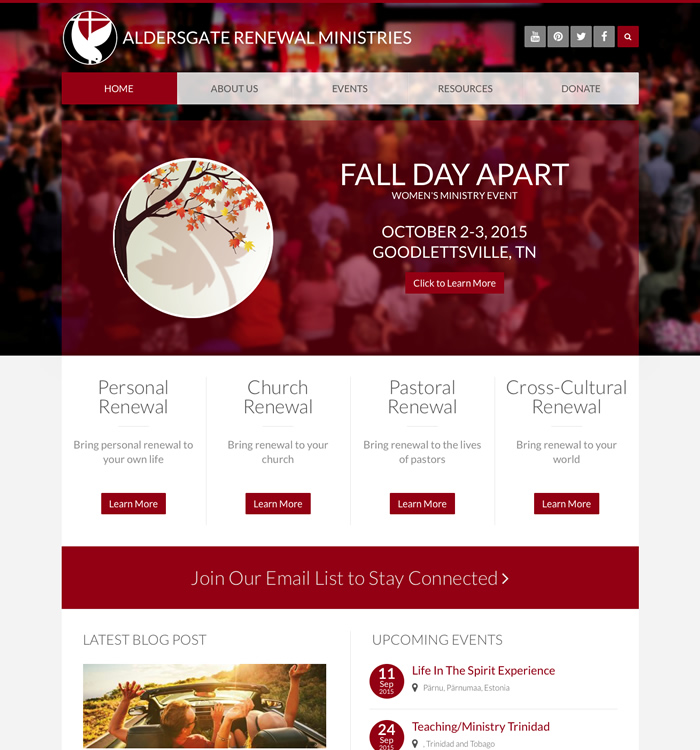 Client Name
Aldersgate Renewal Ministries
Client Site
aldersgaterenewal.org
Project Type
CMS Based Website
Site Engine
Joomla!® 3.x
Note: This client replaced their website as of April 2023 to a new site that we were not involved with. We're leaving this project up though, as we're still proud of our work.
Project Goal
To refresh the ministry's online presence and make it easier for users to find events and resources, learn about the ministry and give online.
Solution
Since we built the original Joomla 1.5 site for this client, we were somewhat familiar with the content and structure, but a lot had changed since the original launch. We analyzed every bit of content on the old side and then re-organized it in a way that was more user friendly for those not necessarily familiar with the ministry. Many items had been arranged and labeled from a staff perspective using terms the public may or may not know. Dated events had originally been posted in the menus, forcing the staff to constantly keep up and change the menus after ever event. Pages were used and reused for different events, causing issues with search engines. The menu structure was greatly simplified so as not to be overwhelming for new users.
We met with the staff several times to make sure they were all on the same page with the website and didn't feel like they were outside of the loop. We encouraged feedback and utilized it when possible. This helped the staff feel like it was still their own website and not something just handed to them.
Once we had the site structure mapped out, we created a brand new site using the latest Joomla! engine and then migrated the old data into the new site. We then made the planned changes to the menu structure and content. All content was reviewed and old content was removed. Many pages were updated with new text or merged together to condense the amount of pages needed. New pages were created where needed.
A new event management extension was installed to make it easier to track all of their events without having to modify or change pages after an event was over. This allowed for the display of "upcoming events" modules to be placed on various pages (including the home page) that were automatically updated with new events as they are added.
Several other extensions were added including a blog, online donation form, cottage reservation form and a new document manager. We then customized the look of all the parts so the entire site feels like one unified piece. The result is a beautiful yet functional site that really gives the ministry a bold, modern web presence.