Case Study: Aldersgate 2016 Conference Website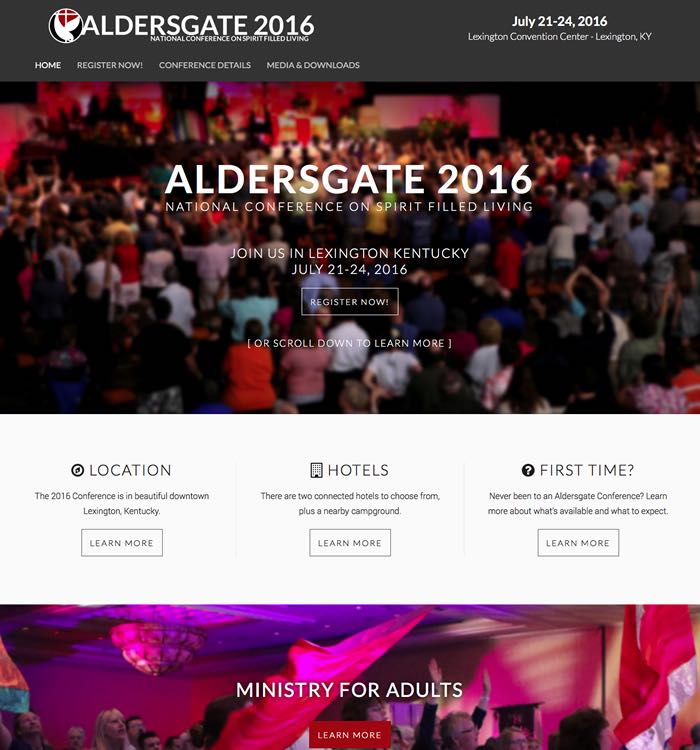 Client Name
Aldersgate Renewal Ministries
Client Site
aldersgateconference.org
Project Type
CMS Based Website
Site Engine
Joomla!® 3.x
Project Goal
To launch a new, responsive site for the client's 2016 Annual Conference that allows viewers to easliy register, find available hotels, learn about speakers and also be approachable for first timers.
Solution
Each year the ministry launches a new conference website to draw attention to the upcoming conference. This year, we changed the url so that it wasn't year specific and didn't have to be changed every year. This allows them to not have to continually remember to change all the links to the conference site from their other online sites.
We then chose a modern template that would work well to get their message out. The home page was streamlined from past years, focusing on the main points of the conference: Adult, Children, Youth, Location, Hotels and a link for first timers. A static header was used instead of an animated slider to cut down on the movement and keep the focus on the dates and call to action button.
We used a special site extension to load all of the speaker images into a single page, with pop up links to view their bios without leaving the page. As they add their smaller workshops, those will appear below the Keynote speakers, and include a filter to view which person is speaking during specific workshop times.
The site will also eventually include an embeded interactive schedule once the schedule has been locked in and approved.
NOTE: The site has been replaced with a new version for 2019.