Case Study: Kalcheim Haber Website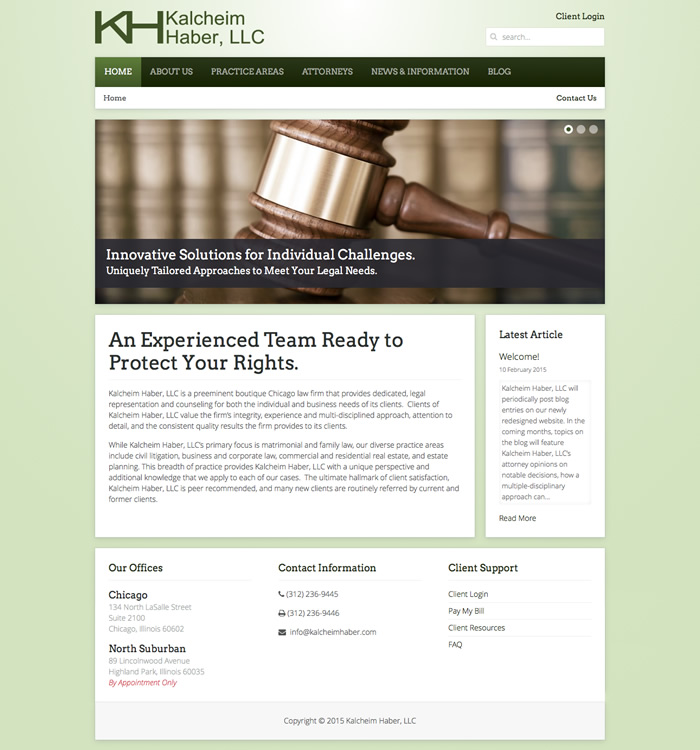 Client Name
Kalcheim Haber, LLC
Client Site
kalcheimhaber.com
Project Type
CMS Based Website
Site Engine
Joomla!® 3.x
Project Goal
To replace a flash based site with a new, easy to maintain mobile friendly site.
Solution
The original site was 100% flash, which wouldn't load at all on most mobile devices. We replaced this with a Joomla site and chose a color and style that was similar to the old site to bring a bit of familiarity to it for their current customers.
One of the things they loved about the old flash site was that lots of content could be clicked through without the page having to refresh. With this in mind, we were able to create several pages using hidden tabs that allowed for the loading of multiple pages of content all into the same page. Clicking on an item in the left side bar loads the content into the right pane without refreshing the site.
The other benefit from this system is that the client can edit a single item in the back end for each element of the final page, without having to worry about breaking the structure of the final page or sift through the code that makes the layout work. For example they can edit the biography of a single attorney without having to see all the code of the full Attorney's page.
We also set up a news section, a document manager and a billing system that allows them to send out invoices to clients that can be paid through the website.