Case Study: Framaco Website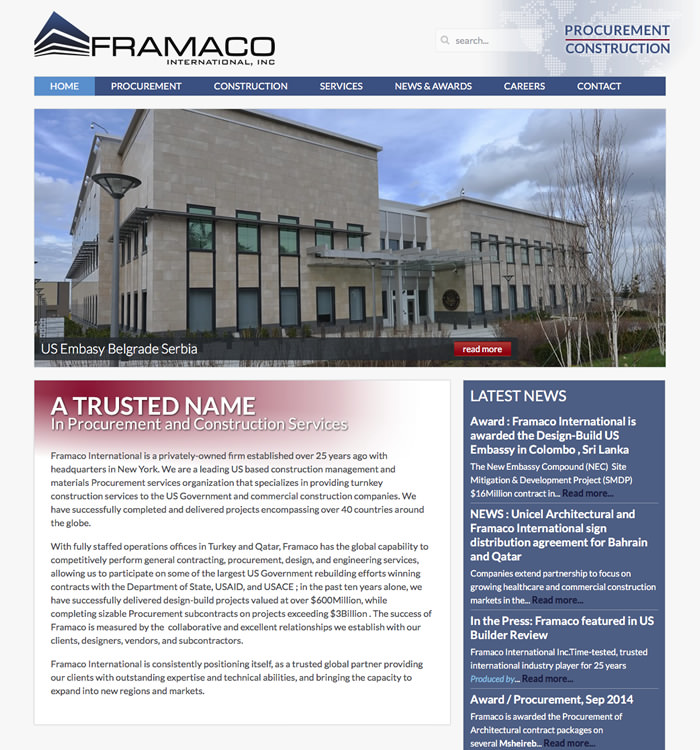 Client Name
Framaco International
Client Site
framaco.com
Project Type
CMS Based Website
Site Engine
Joomla!® 3.x
Project Goal
To replace an old, flash filled site with a new modern design that is responsive and easy to maintain.
Solution
Framaco was looking for a site that didn't look like every hipster site out there. They wanted it to still have a bit of an industrial feel, while being modern and of course mobile friendly. Their old site was also filled with flash slide shows that were impossible to update and wouldn't load at all on most mobile devices.
We started fresh with a new Joomla site, and modified a commercial template to match their design ideas. A retina script was added to the template so that if available, a 2x sized image was loaded in place of the original to make the site look crisp on retina screens.
Some of the content from the old site was used, and it was then suplimented with new content, or replaced with updated content provided by the client. A menu structure was planned out and then we made suggestions on the best way to present some of the data.
Since the template framework supported a few usability functions such as accordions sliders (clicking on a text link to reveal more text below it), we used those to condense content as much as possible. All of the image slideshows and galleries use a Joomla component with a user interface, so it's easy to add or remove images from the site admin panel.